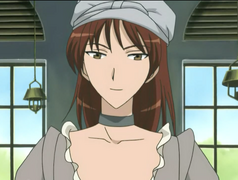 Zephine is a minor, Anime-exclusive character. She was a former co-worker alongside Fantine at the black glass factory in Montreuil-sur-Mer before she and the other female workers found out about Fatine raising an illegitimate child in hiding.
She made her first appearance in episode 2 after Fantine was hired at the factory, and was assigned to watch over the new employee.
Ad blocker interference detected!
Wikia is a free-to-use site that makes money from advertising. We have a modified experience for viewers using ad blockers

Wikia is not accessible if you've made further modifications. Remove the custom ad blocker rule(s) and the page will load as expected.